La "dé-spécialisation" de l'anglais juridique
The drafting of some Common Law contracts has evolved towards improved readability, presumably under the influence of the Plain English Movement, so that these contracts are understood more easily by lay people. One way of achieving this is to suppress traces of legalese such as, for instance, specialised terminology and lexis, as well as some grammatical features considered as antiquated. The aim is to adopt a style that will be more in line with non specialised communication and that will meet some readability criteria (such as shorter sentences and words). Some contracts have unquestionably become clearer, including from the point of view of lawyers, some of whom criticised the use of a convoluted style, as well as that of repeated, needless and sometimes obscure archaisms. However, expunging some legal stylistic features from contracts may have some detrimental effects and impede communication in other ways. After looking into such features, we will show how contractual stylistics has evolved by analysing a corpus of recent contracts. We will then discuss the limits of these evolutions, notably from a perlocutary point of view (Austin, 1962), by examining in particular the impact they might have on the parties to a "simplified" contract.
Certains contrats de Common Law font l'objet d'une évolution stylistique que l'on peut sans nul doute mettre en lien avec le mouvement de simplification des langues spécialisées, notamment juridiques – Plain English Movement pour ce qui est de l'anglais. La stylistique contractuelle a ainsi évolué de manière à ce que certains contrats soient plus lisibles pour les non-professionnels du droit. Cette évolution s'est manifestée notamment par la suppression de traces de « jargon juridique » (terminologie, lexique, tournures de phrases, voire tournures grammaticales) au profit d'un style relevant de la communication non spécialisée et remplissant certains critères de lisibilité (comme la réduction de la longueur des phrases, voire celle des mots). Il est indéniable qu'un certain nombre de contrats ont gagné en clarté, y compris du point de vue des juristes dont certains déploraient, entre autres, l'usage d'un style complexe et celui répété, inutile, et parfois problématique, d'archaïsmes devenus obscurs. Toutefois, la volonté de dépouiller autant que possible certains contrats de leur spécificités stylistiques n'est pas sans créer de nouvelles difficultés. Avoir avoir évoqué les spécificités de la stylistique contractuelle, nous en montrerons certaines évolutions en nous fondant sur une analyse de corpus composés de contrats récents, puis discuterons des limites de ces évolutions, en particulier d'un point de vue perlocutoire (Austin, 1962), en nous intéressant à leur impact potentiel sur les parties à un contrat dit « simplifié ».
Fichier principal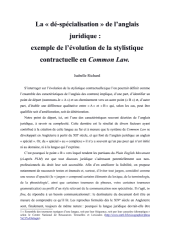 Déspécialisation.pdf (212.79 Ko)
Télécharger le fichier
Origin : Files produced by the author(s)
Licence : CC BY NC ND - Attribution - NonCommercial - NoDerivatives