Contexte et perspectives linguistiques au Bénin en 2020 : entre langues nationales et langue officielle, un panorama complexe.
After its independence, this West African country kept french as its official language, which is still the language of administration, law and diplomacy. It enjoys a privileged status which is the consequence of the role it played in the past and the functions it fulfills in the present. On the other hand, the so-called national languages are numerous, more deeply rooted and widely spoken by the Beninese population. How do they coexist? To echo the perspective of the dialogue between law and languages that is the focus of this scientific event, how do legal texts influence the evolution of the national sociolinguistic context? Between a codified French language that is well anchored in the school system, vigorous but poorly written local languages, and recurrent questioning by civil society actors about the status of these different languages, how might this context evolve in the coming years? These are some of the questions we want to answer in this article.
À son accès à l'indépendance ce pays d'Afrique de l'ouest a conservé comme langue officielle le français qui, aujourd'hui encore, demeure la langue de l'administration, du droit et de la diplomatie. Il jouit d'un statut privilégié qui est la conséquence du rôle qu'il a joué par le passé et des fonctions qu'il remplit dans l'actualité. De l'autre côté les langues dites nationales sont nombreuses, plus enracinées et largement parlées par la population béninoise. Comment cohabitent-elles ? Pour faire écho à la perspective du dialogue entre droit et langues qui est celle de cette journée d'étude, comment les textes de loi influencent-ils l'évolution du contexte sociolinguistique national ? Entre une langue française codifiée et bien ancrée dans le système scolaire, des langues autochtones vigoureuses mais peu écrites, un questionnement récurrent des acteurs de la société civile au sujet du statut de ces différentes langues, quelle pourrait être l'évolution de ce contexte au cours des prochaines années ? C'est, entre autres, à ces questions que cet article se propose de répondre.
Fichier principal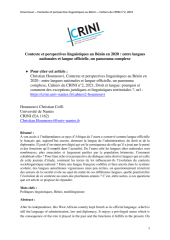 2021CahiersCRINI2-HOUNNOUVI-Be_nin.pdf (435.4 Ko)
Télécharger le fichier
Origin : Explicit agreement for this submission