Langues autochtones minoritaires en Allemagne : similitude des droits, diversité des situations sociales
The present article studies the legal status and the social situations that characterize the four indigenous languages recognized by contemporary Germany. In a first step it sketches out the geographical and historical context of these languages in taking into account their respective position with regard to German. In a second step the various legal regimes that rule the use of these languages are briefly presented. In a third step the study will be further developed by taking into account the non-linguistic conditions that play a part in the effective use of minority languages in Germany. Despite the similarity of rights, the social situations in which these four languages are used turn out to be extremely variable.
Le présent article étudie le statut juridique ainsi que les situations sociales caractérisant les quatre langues autochtones reconnues par l'Allemagne contemporaine. Dans un premier temps, il esquisse le contexte géographique et historique de ces langues en tenant compte de leur position respective vis-à-vis de l'allemand. Dans un deuxième temps, les différents régimes légaux régissant la pratique de ces langues sont présentés succinctement. Dans un troisième temps, l'étude sera approfondie par la prise en compte de conditions autres que juridiques qui concourent à façonner l'usage effectif des langues minoritaires en Allemagne. Il s'avère que, en dépit de la similitude des droits, les situations sociales dans lesquelles servent ces quatre langues sont extrêmement variables.
Fichier principal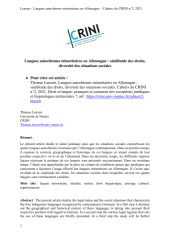 2021CahiersCRINI2-LENZEN-Allemagne.pdf (355.67 Ko)
Télécharger le fichier
Origin : Explicit agreement for this submission