From "arrangements" to confrontation: how young hairdressers and construction workers deal with their employers
De los "arreglos" a la confrontación: las jóvenes peluqueras y los obreros de la construcción frente a su·s empleador·es
Des « arrangements » à la confrontation. Les jeunes coiffeuses et ouvriers du bâtiment face à leur·s employeur·s
The present contribution takes studies of young hairdressers and construction workers to ascertain to what extent young employees operating in these sectors make full use of the social rights at their disposal. It demonstrates that this is not always the case due to the "professional complicity" that many share with their employers. Having said that, such analysis is also incomplete since it masks the variable and discretionary aspects of many of these arrangements – explaining the need to also consider the conditions in which they occur. For instance, whereas all interviewees found themselves in a subordinate position whilst doing their apprenticeships, their subsequent trajectories could be quite varied, with construction workers more likely to "scream and shout" whereas hairdressers showed a greater tendency to avoid conflict. The end result is to reveal the full range of gendered and otherwise differentiated forms of subordination that feature in these single-sex working environments.
Este artículo propone cuestionar los usos que hacen (o no) los jóvenes asalariados de sus derechos, a partir de investigaciones realizadas en los sectores de la peluquería y de la construcción. En él se muestra que, si compartir una "complicidad de oficio" con el empleador puede propiciar alejarse de los derechos, un análisis en estos términos parece insuficiente dado que oculta el carácter variable y discrecional de esos "arreglos". Por lo tanto, es necesario interesarse al mismo tiempo en las condiciones de una posible confrontación. Ahora bien, si todos los encuestados comparten una posición subalterna durante el aprendizaje, las distancias crecen posteriormente. De las "arengas" de los obreros de la construcción para evitar más asiduamente la confrontación con las peluqueras, surge toda la fuerza de disposiciones de género y de formas diferenciadas de subordinación que ocurren en estos universos de trabajo no-mixtos.
Cet article propose d'interroger les usages que font (ou non) les jeunes salariés de leurs droits, à partir d'investigations menées dans les secteurs de la coiffure et du bâtiment. Il montre que si le partage d'une « complicité de métier » avec l'employeur peut fournir l'occasion d'une mise à distance de droits, une analyse en ces termes apparaît insuffisante en ce qu'elle masque le caractère variable et discrétionnaire de ces « arrangements ». Il est donc nécessaire de s'intéresser dans le même temps aux conditions de possibilité de la confrontation. Or, si tous les enquêtés partagent une position subalterne en apprentissage, les écarts s'accroissent par la suite. Des « coups de gueule » des ouvriers du bâtiment à l'évitement plus régulier de la confrontation chez les coiffeuses, tout le poids de dispositions genrées et de formes différenciées de subordination ayant cours dans ces univers de travail non-mixtes apparait alors.
Fichier principal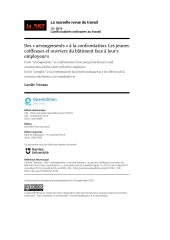 nrt-5723.pdf (268.36 Ko)
Télécharger le fichier
Origin : Publisher files allowed on an open archive
Licence : CC BY NC ND - Attribution - NonCommercial - NoDerivatives