La « sous-activité » des assistantes maternelles : un rapport au métier différencié selon le positionnement social.
This article presents the results of research into the " under-employment" of childminders, namelythe reasons why some practitioners work below the possibilities the law offers at a time when earlyyears policies are aimed at favouring this method of childcare (raising the threshold of licensingapproval, private day nurseries, etc.). In 2007, 21% of childminders looked after only one child and20.6% declared less than 144 hours of childcare in a month, or less than one child in full-time care.What does this " under-employment" reveal about the affinity these women have with the job andthe work ? Using an interview campaign in Haute-Vienne and Loire-Atlantique as well as additionalresearch, the determining factors and customs of childminder " under-employment" were observedand were shown to vary greatly. In order to be part of continuing research which places lessemphasis on professionalization than on the work and social position of childminders, the analysisfocuses on three ways of practising the profession, based on social ownership, affinity with the joband affinity with the work.
Cet article présente les résultats d'une recherche consacrée à la « sous-activité » des assistantesmaternelles, aux raisons pour lesquelles certaines professionnelles travaillent en deçà despossibilités offertes par la loi, au moment où les politiques de la petite enfance visent à favoriserce mode de garde (relèvement du seuil d'agrément, maisons d'assistantes maternelles, etc.). En2007, 21 % des assistantes maternelles gardent un seul enfant et 20,6 % déclarent moins de 144heures de garde dans le mois, soit moins d'un enfant gardé à temps plein. Qu'est-ce que cette «sous-activité » révèle sur le rapport à l'emploi et au travail de ces femmes ? À partir d'unecampagne d'entretiens en Haute-Vienne et en Loire-Atlantique et d'investigationscomplémentaires, les déterminants et les usages de la « sous-activité » des assistantesmaternelles ont été observés, qui se sont révélés très variés. Afin de s'inscrire dans leprolongement de recherches mettant moins l'accent sur la thématique de la professionnalisationque sur celles du travail et du positionnement social des assistantes maternelles, l'analyse estcentrée sur trois manières d'exercer le métier, articulant propriétés sociales, rapport à l'emploi etrapport au travail.
Fichier principal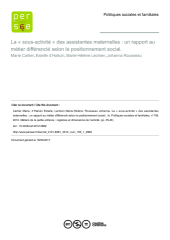 caf_2101-8081_2012_num_109_1_2882.pdf (215.07 Ko)
Télécharger le fichier
Origin : Publisher files allowed on an open archive