Enjeux esthétiques et idéologiques de la représentation historique dans Les Amours des Grands Hommes de Mme de Villedieu
Madame de Villedieu did not invent the "nouvelle historique", however she has created the gallant narratives. Applying this principle to the great figures of the Ancients (such as Solon, Socrates, Caesar and Pompey), she adopts a gallant point of view which brings these illustrious men down to the rank of ordinary characters, and even comical ones. The desacralisation of the heroes humanize these models and serve to introduce female figures in the historical narration ; it also conveys a certainly biased, but well-informed, historical narrative for a non-scholar and quite worldly public. Beyond the overthrow of classical literary traditions, we question the political implication of this gesture.
Si Mme de Villedieu n'a pas inventé la nouvelle historique, en revanche elle en a créé la version galante. En appliquant aux grands personnages de l'Antiquité la formule qu'elle avait d'abord expérimentée avec l'histoire récente, elle présente dans Les Amours des Grands Hommes (1671) des figures aussi fameuses que Solon, Socrate, César ou Pompée en adoptant un angle de vue galant qui ramène ces hommes illustres au rang de personnages ordinaires, et même comiques. La désacralisation des héros permet ainsi, en humanisant les modèles, de faire entrer des figures féminines dans le récit historique et de diffuser une version certes orientée, mais informée tout de même, de l'histoire auprès d'un public non savant. Cependant cette désacralisation ne finit-elle pas, au-delà du renversement des traditions littéraires, par toucher à la sphère politique ?
Fichier principal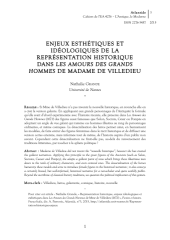 grande.pdf (68.82 Ko)
Télécharger le fichier
Origin : Files produced by the author(s)