Les dominicains du Mato Grosso (XIXe-XXe siècles) : de l'esprit missionnaire à la littérature
In the second half of the 19th century, the Dominicans started founding several foreign missions in Amazonia, in particular in the Araguaia River territory : Mato Grosso, Brazil. Because the order was based in Toulouse, French Dominican missionaries were routinely sent to visit these outposts. Many of them have left some records of their trips there. This study will focus on three examples among many others, written between the 1890s and the 1950s by Étienne-Marie Gallais, Marie-Hilaire Tapie and Maurice Lelong. This comparison aims at showing how, beyond the purely « professional » objective of their travels, literature finds its way into the narratives of these men of God. The point here is not to study the contents itself of the texts, but rather to look into the publishing strategies and the authorial stances that ends up giving a genuine literary quality to these publications.
À partir de la seconde moitié du XIXe siècle, les dominicains fondent un certain nombre de missions en Amazonie, plus précisément le long du fleuve Araguaia, dans le Mato Grosso. Le siège de l'ordre se trouvant à Toulouse, ces postes avancés sont régulièrement visités par les Frères Prêcheurs français. Plusieurs ont laissé des témoignages de leur passage ; on s'attachera ici à trois d'entre eux, dont les récits de voyage s'échelonnent entre la fin du XIXe siècle et le milieu du XXe : Étienne-Marie Gallais, Marie-Hilaire Tapie et Maurice Lelong. Cette comparaison voudrait montrer comment, à partir de séjours strictement « professionnels », la littérature s'invite peu à peu dans les publications de ces ecclésiastiques, de façon subreptice d'abord, puis de plus en plus marquée. Il ne s'agira pas tant d'étudier le contenu de ces textes que d'être attentif aux stratégies éditoriales et aux postures auctoriales par lesquelles cette présence du littéraire devient sensible.
Fichier principal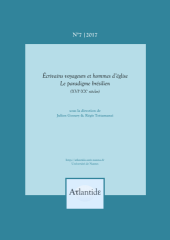 tettamanzi_atlantide_7_volume_integral.pdf (426.35 Ko)
Télécharger le fichier
Origin : Publisher files allowed on an open archive
Licence : CC BY NC ND - Attribution - NonCommercial - NoDerivatives