L'entrepreneuriat confronté au pluralisme théorique : la nécessité d'une Project-Based View
The research in entrepreneurship is more and more interested in the phenomena of organizational emergence. Confronted with the complexity of the entrepreneurial process, English- and French-speaking researchers have developed a plurality of theoretical and disciplinary perspectives to understand these phenomena. In France, this theoretical pluralism can be illustrated for example in the framework based on the logic of action ; it is seen by some authors as an open theoretical posture. Some others researchers have proposed the Project-Based View (PBV) to seize the phenomena of organizational emergence. In this article, we compare these two perspectives, which take place in the same posture by overtaking the economic and sociological analysis. The article proposes to take into account the assumptions and proposals of the PBV to better understand entrepreneurial moments and to found the approach based on the theoretical pluralism.
La recherche en entrepreneuriat s'intéresse de plus en plus aux phénomènes d'émergence organisationnelle. Confrontée à leur complexité, nombre de chercheurs anglophones et francophones appellent à la mobilisation d'une pluralité de regards théoriques et disciplinaires. En France, le pluralisme théorique trouve par exemple à s'illustrer dans l'analyse des logiques d'action retenue, par certains auteurs, comme posture d'ouverture théorique. Il fonde aussi, pour d'autres, une théorie de l'entreprise basée sur le projet, ou Project-Based View (PBV), avancée pour saisir les phénomènes de genèse et de morphogenèse des organisations. Rapprochant ces deux perspectives, qui s'inscrivent dans une même posture de dépassement des lectures réductrices, l'article conclut à la nécessité de faire toute leur place aux ingrédients de la PBV pour penser les moments entrepreneuriaux et fonder ainsi le pluralisme théorique.
Fichier principal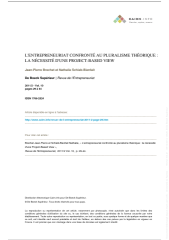 2011 ENtrepreneuriat et Project-based-View Revue ENTRE 2011.pdf (382.79 Ko)
Télécharger le fichier
Origin : Explicit agreement for this submission