Figures de la conception et de l'innovation dans l'artisanat
If design and innovation have been largely studied by researchers in management, this question is relatively less adressed in the craft context. This article deals with the design and innovation figures, identified after three years of work within a regional club associating both different craftsmen and researchers. Based on an empirical study of 15 craft firms in several sectors (sometimes traditional sector) results put into light several various shapes and stages in design and innovation processes. After the presentation of the different theoretical approaches of design and innovation and their limits in the craft context, we expose the research methodology and this original approach of regional club. Afterwards, the proposal of a typology of design and innovation couple is discussed and considered to characterize the cratf man as an original figure of project manager.
Les figures de la conception et de l'innovation présentées et discutées dans cet article sont le fruit d'une réflexion menée à partir d'un travail empirique réalisé auprès d'artisans. Ces derniers, qui proviennent d'univers de métiers parfois traditionnels, considèrent qu'ils innovent, même si c'est bien sûr à des degrés divers et dans des formes variées. Après avoir présenté les approches de l'innovation et les limites qu'elles présentent dans le contexte de l'entreprise artisanale, nous présentons la méthodologie de recherche, qui s'inscrit dans le cadre d'une démarche originale de travail impliquant des universitaires et un club régional de dirigeants artisanaux. La proposition d'une typologie de couples conception / innovation est ensuite discutée et envisagée pour caractériser l'artisan par une figure originale de manager de projet.
Fichier principal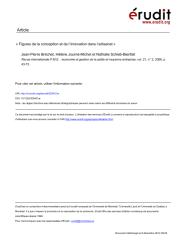 2008 Figures artisan RIPME 2008.pdf (324.74 Ko)
Télécharger le fichier
Origin : Explicit agreement for this submission