PROJETS ET POUVOIRS DANS LES REGULATIONS CONCURRENTIELLESLA QUESTION DE LA MORPHOGENESE D'UNE FILIERE BIOLOGIQUERevue d'économie industrielle 113 (1er trimestre 2006) Varia
This article deals with the organizational emergence issue and the competitive rules formation. Through the illustration of the french organic farming genesis and morphogenesis, we firstly consider an endogenous analysis based on the sociological theoretical approach (ASO - Analyse Sociologique des Organisations developed by M. Crozier and E. Friedberg), where organizations take place as the result of social forces, social relations and power games. Secondly, we propose to study the organizational phenomenon by introducing actors' projects. This alternative approach (a "projective approach") allows to develop a time-based perspective, which takes into account both political, ethical and economical dimensions in productive project. It views organizational emergence and evolution as the comprehensive meeting and understanding of actors' productive projects.
La question de la genèse et de la morphogenèse des organisations et des régulations concurrentielles est abordée à travers celle de la constitution d'une filière biologique. La première étape de la réflexion se structure autour d'une lecture en termes de jeux d'acteurs et de pouvoirs qui donne ainsi la priorité à l'explication endogène conformément à ce que revendique l'analyse sociologique des organisations. La deuxième étape introduit des éléments auparavant délaissés en prenant en compte les projets des acteurs. De ce fait, ce qui est introduit, c'est le temps et les dimensions éthico-politiques et technico-économiques par lesquelles les projets productifs des acteurs se définissent et se comprennent.
Fichier principal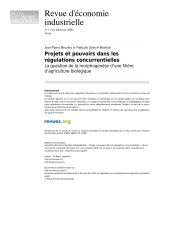 2006 rei-233-113-projets-et-pouvoirs-dans-les-regulations-concurrentielles.pdf (206.44 Ko)
Télécharger le fichier
Origin : Explicit agreement for this submission